Specifikime
API GL-4
BMW MTF LT-2
BMW MTF LT-3
BMW MTF LT-4
FORD WSD-M2C200-C
FORD WSS-M2C200-D2
GM 1940182
GM 1940764
GM 1940768
GM 1940004
GM 19259104
MB 235.10
NISSAN MT-XZ
NISSAN MT-XZ TL
PSA B71 2230
Renault NFJ
Renault NFP
Renault TRJ
Renault TRT
Renault TRZ
VOLVO 97308
VOLVO 97309
VW G 009 317
VW G 052 171
VW G 052 178
VW G 052 512
VW G 052 726
VW G 052 527
VW G 070 726
VW G 060 726
VW G50
MTF94 Honda MTF
Segmente
Commercial Transport
Passenger Car
Racing
Gevitro GL-4 FS SAE 75W80
Vaj kambio plotësisht sintetik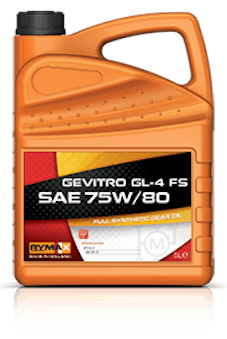 Përshkrim
Gevitro GL-4 FS është një vaj transmensioni manual me cilësi të lartë i projektuar për tu përdorur në autovetura dhe automjetet e lehta komerciale. Është formuluar nga vajra sintetikë të një cilësie të lartë të shtuar me paket aditivësh të performancës së lartë. Ky produkt është projektuar për të mbuluar nevojat e shumë automjeteve edhe jashtë periudhës së garancisë.
Përfitime
Ekonomia e karburantit
Excellent oxidation stability
Mbrojtje e shkëlqyer anti-ndryshk
Vetitë e shkëlqyera të temperaturës së ulët për të siguruar lëvizjen e lehtë edhe në dimër të ftohtë.
Compatible with wide variety of synchronizer materials.