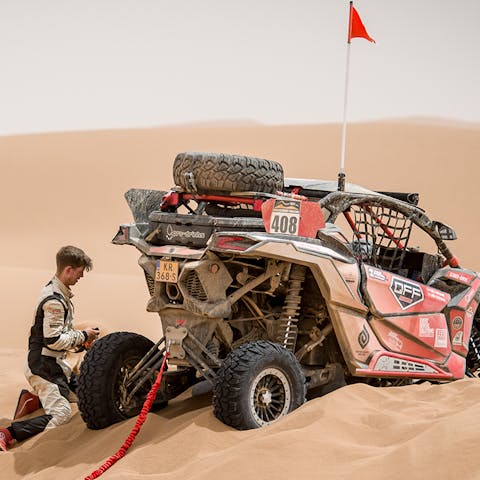 Journey to Morocco Desert Challenge Episode 4 – Stuck in the desert
Ndiqni udhëtimin!
Follow the journey via our Instagram account
A split second of not paying attention can get you in trouble in the desert.
In this episode, Herman is a few days in on his desert training. Isabelle and her husband Thierry continue to equip him with all the knowledge that they have, on how to handle the Moroccan desert.
The day seemed to be going along well until Herman discovered that the Moroccan sand dunes where not that easy to get over. He found himself stuck in the desert, in the middle of nowhere, quite a few times, on top of a number of sand dunes. Luckily, with the help of Isabell and Thierry, the more experienced rally drivers, Herman was able to dig and push the car out of hole he had found himself in. The good thing about this experience is that being stuck in the dessert is exactly what he needed as part of his training as this could happen during the race.
While trying to come to grips with everything, Herman also found that there's quite a lot of information to process, from the amount of gas he needs to hit when going over the dunes to keeping track of where he is while going over them. While doing this, trying to figure out how much gas to give, he was able to "jump the car" off the dune. He can now cross that item of his bucket list.