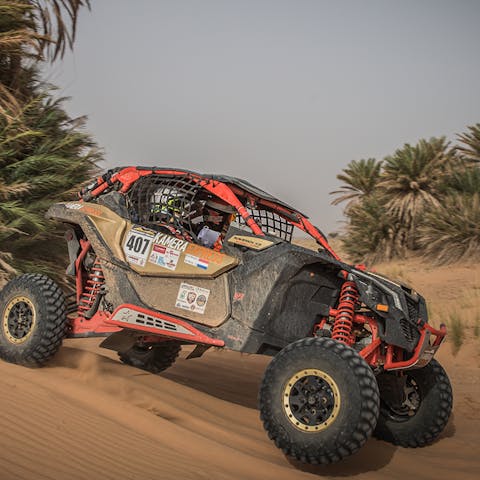 Journey to Morocco Desert Challenge Episode 5 – Can-Am Maverick X3 Test Drive
The Morocco Desert Challenge is literally days away and Herman and his team are giving the Can-Am Maverick X3 a test run before heading off to Morocco.
Follow the journey!
Follow the journey via our Instagram account
Last weekend, Team Rymax went to an off-road track in Germany to test out the newly wrapped Team Rymax Can-Am Maverick X3 for the first time. The crew wanted to make sure that all systems are go before heading off to Morocco. The off-road track, although not a desert, provided the ideal grounds for testing and pushing the Can-Am to its limits and also for Herman to brush up on his off-road driving skills.
While testing and having fun on the track, the crew discovered that there was a problem with the Can-Am. They noticed an annoying sound coming from the car and feared that it was coming from the transmission. With the Morocco Desert Challenge just days away, things did not look good. Luckily, since the team consists of skilled mechanics, after running an inspection, they were quick to spot the problem and got around to fixing it. Within no time, the team was back on the track and made the most out of what was left of the day.
Like and follow Rymax Lubricants on Facebook: http://www.facebook.com/rymaxlubricants
Follow Rymax Lubricants on Instagram: http://www.instagram.com/rymaxlubricants/