Spécifications
CHRYSLER ATF 3+
CHRYSLER ATF 4+
CHRYSLER MS-7176
CHRYSLER MS-9602
Atexio +4
Full synthetic automatic transmission fluid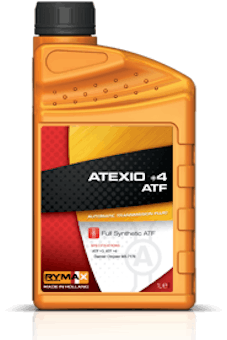 Description
Atexio +4 is a fully synthetic automatic transmission fluid and particularly recommended for Chrysler automatic transmissions. This product is also suitable for power steering systems and hydraulic systems, where an excellent low temperature fluidity is required. Atexio +4 has an extremely low pour point, allowing easy gear shifting at cold starts. Seals are not affected by this fluid. Atexio +4 meets the ATF+4 (MS-9602) service fill specification and replaces ATF+3 (MS-7176).Atexio +4 is especially recommended for top-up or re-fill after repair or revision of Chrysler automatic transmissions where an ATF+3 and ATF+4 are prescribed.
Because of the special friction-characteristics, this fluid is only to be applied in automatic transmissions of Chrysler and Jeep.
Avantages
High and very stable viscosity index
Improved resistance against oxidation, mechanical wear, corrosion and foam building.