Spécifications
BMW 83 22 2 147 477
BMW 83 22 2 148 578
BMW 83 22 2 148 579
BMW 83 22 0 440 214
FORD M2C936-A
MB 236.1
MITSUBISHI MZ320065 Dia-Queen SSTF-1
Porsche Oil No. 999.917.080.000
VOLVO 1161839
VOLVO 1161838
VW TL 052 529
VW TL 052 182
Segments
Passenger Car
Commercial Transport
Racing
Atexio DCT
Full synthetic automatic transmission fluid for double clutch transmissions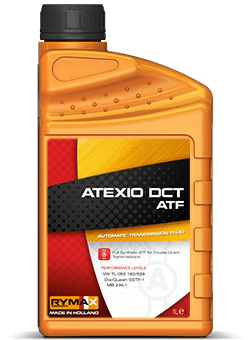 Description
Atexio DCT is a full synthetic long life ATF, specially formulated, and only suitable for double clutch transmissions in vehicles from the VAG (Volkswagen- Audi) group. This trans mission, also known as DSG (Direct-Shift Gearbox) transmission, is developed for racing applications and is modified now, for use in passenger cars from Volkswagen Audi, Seat and Skoda.

To maintain the performance level of Atexio DCT, this oil should not be mixed with any other (automatic) transmission oils.
Avantages
High and very stable viscosity index
Point bas d'écoulement.