Spécifications
FORD M2C166-H
FORD MERCON
GM DEXRON II D
MB 236.5
VOITH H55.633540
VOITH H55.6335xx
VOITH H55.633640
VOITH H55.6336XX
ZF TE-ML 09A
ZF TE-ML 09B
Segments
Passenger Car
Commercial Transport
Agriculture
Mining
Atexio II
Automatic Transmission Fluid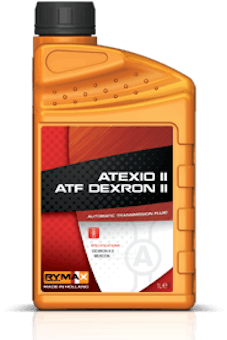 Description
Containing as many as 15 components, ATFs represent a careful balance of properties needed to meet the unique requirements of automatic transmissions. They may be described as viscometrically similar to SAE 0W-20 grade oils, but with exceptionally good low temperature properties. ATFs contain some of the same additives as engine oils, but with additional material to give special frictional properties and exceptional oxidation resistance. Because of their excellent low temperature fluidity and antiwear properties, automatic transmission fluids perform well as hydraulic fluids in industrial equipment and air compressors, provides water separation is not required.
These fluids perform five basic functions:
Transmit hydronamic energy in the torque converter.
Transmit hydrostatic energy in hydraulic logic control circuits and servomechanisms.
Lubricate shaft bearings, thrust bearings and gears.
Transmit sliding friction energy in bands and clutches.
Act as a heat transfer medium controlling automatic transmission operating temperatures.
ATF specifications are in a state of flux and now there are several types of fluid specified for North American transmissions. The ATF used for older vehicles mostly is our DEXRON® II, recommended for transmission top-up or refill, by most automobile manufacturers.

Atexio II is superior to 10W motor oils commonly used in mobile equipment hydraulic systems, because it has better cold starting performance, superior materials compatibility and a greater resistance to oxidation.

Avantages
ATF DEXRON® II procure une excellente stabilité thermique et résistance à l'oxydation, permettant une longue durée de vie dans les conditions les plus sévères.