Spécifications
ATF J-2
JWS 3324
CHRYSLER 68157995AA
FORD WSS-M2C924-A
Mercon LV
Mercon SP
GM DEXRON VI
HONDA ATF DW-1
HYUNDAI NWS-9638
MAZDA FZ
MB 236.12
Saab 93
Saab 165
Saab 147
TOYOTA WS
Aisin Warner AW-1
Bentley Oil PY112995PA
Fiat 9.55550-AV2/5
JAGUAR 02JDE26444
JAGUAR Fluid 8432
M-1375.4
Maserati 231603
ZF Lifeguardfluid8
Segments
Commercial Transport
Passenger Car
Racing
Atexio VI MV
Full Synthetic Low Viscosity ATF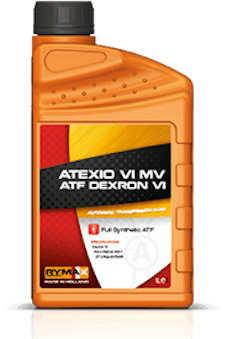 Description
Atexio VI MV is a fully synthetic transmission fluid, especially developed for automatic transmissions of General Motors but also for many other applications such as ZF 6 to 8 speeds or Aisin Warner AW-1. It is also suitable for power steering systems and some hydraulic systems where a good low temperature fluidity is required.

Atexio VI MV is the recommended top up or refill fluid for automatic transmissions where DEXRON VI and/or DEXRON III is prescribed. Atexio VI MV has a very high and stable viscosity index and an
improved resistance against corrosion and oxidation. Due to these improvements, the drain interval for new GM automatic transmissions is doubled. ATF Full Synthetic DEXRON VI meets the DEXRON VI specification , required in all automatic transmissions of General Motors build in 2006 or later. But it also meets many other recent ATF specifications from Aisin-Warner, Honda, Hyundai, Jaguar, VW or the latest ZF Lifeguard fluid 8 for 6 to 8 speeds ZF fluids.

Avantages