Spécifications
ACEA E4
ACEA E7
DAF
DEUTZ DQC III-10
MACK EO-N
MAN 3277
MB 228.5
MTU Type 3
Renault TRUCK RLD-2
Renault TRUCK RXD
SCANIA LDF-3
VOLVO VDS-3
Segments
Mining
Commercial Transport
Agriculture
Endurox XLD Xxtra SAE 10W/40
Full Synthetic Truck Engine Oil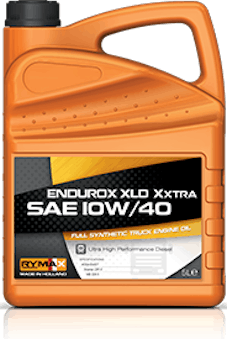 Description
Endurox XLD Xxtra is a synthetic heavy duty diesel engine oil developed to meet the requirements of modern European engines meeting Euro 4 and 5 emission norms. Endurox XLD Xxtra is formulated with premium quality base oil and advanced additives technology to offer superior engine protection and significantly extended drain intervals, up to 120,000 km depending on which OEM. This oils meets the latest ACEA E4 and E7 specifications, but also the very stringent Scania LDF-3 performance level and is suitable for severe duty applications and extended service life in most European Vehicles.
Endurox XLD Xxtra has exceptional anti-wear properties that provides enhanced protection against wear, corrosion and bore polish to ensure longer engine life. Excellent soot handling capability minimizes soot related wear and oil thickening and outstanding thermo-oxidative stability reduces sludge build-up & deposits and controls viscosity increase. Advanced detergency/dispersancy results in cleaner engines and longer component life and excellent low temperature fluidity along with high temperature viscosity retention ensures highest degree of reliability even under severe operating conditions. Superior TBN retention property coupled with above features lead to significantly extended drain intervals.
Avantages
Endurox XLD est adapté à tous les moteurs diesel turbocompressés et atmosphériques utilisés dans les applications sur route, l'exploitation minière, la construction et autres (hors applications routières).