Spécifications
API GL-5
MACK GO-G
MAN 342 M1
MAN 342 M2
MIL-L-2105D
ZF TE-ML 05A
ZF TE-ML 07A
ZF TE-ML 16B
ZF TE-ML 16C
ZF TE-ML 16D
ZF TE-ML 17B
ZF TE-ML 19B
ZF TE-ML 21A
Segments
Passenger Car
Commercial Transport
Racing
Agriculture
Mining
Gevitro GL-5 SAE 80W/90
Gear oil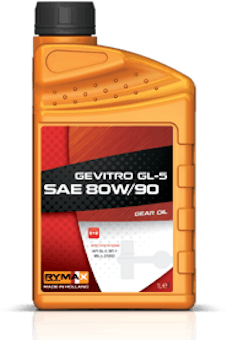 Description
Gevitro GL-5 is a mineral gear oil formulated with the latest technology for optimum lubrication of hypoid rear axle differentials; it can be used under severe conditions, for passenger cars, trucks or buses.
Avantages
Très bonne protection contre l'usure.
Propriétés optimales d'extrême pression, offrant une excellente protection contre les contacts métal-métal dans les conditions les plus rudes.
Très bonne oxydation et stabilité thermique.
Excellente performance dans toutes les conditions thermiques, pour une utilisation tout au long de l'année.