Spécifications
API SL
JASO MA
Motrax 4T SAE 15W/40
4-stroke engine oil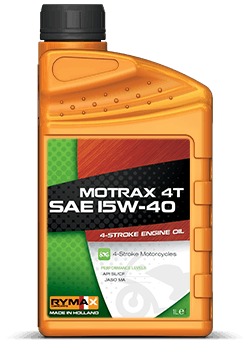 Description
Motrax 4T is a 4-stroke oil for motorcycles with dry or wet clutches. The balanced additive package and carefully selected base oils guarantee
excellent performances under all conditions. Motrax 4T has excellent detergent/ dispersant properties as well as a perfect resistance against ageing. Motrax 4T provides perfect protection to the gears and wet clutches. Due to its low volatility, oil consumption will be substantially reduced. Seals are not affected by this oil. The product effectively prevents stick-slip problems in wet clutches.
Avantages
Good thermo-oxidative stability to control oil thickening during oil life time and to prevent harmful deposits.
Excellent anti-wear properties to protect vital engine and gear parts.