Spécifications
ACEA C3
API SN
BMW LL-04
MB 229.51
VW 504.00
VW 507.00
Posidon C3 LL
Full Synthetic MID SAPS Engine Oil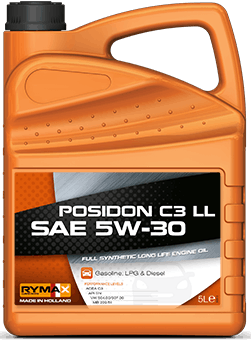 Description
Posidon C3 LL is developed with a special additive technology, which contains less phosphorus, sulphur and sulphated ash, in order to
prevent the after treatment system (particle filter and catalysts) from blocking. Next to this, this oil provides an excellent oxidation stability and wear protection in order to provide maximum protection during long drain intervals.
Avantages
Baisse de la consommation de carburant.
Indice de viscosité très élevé ainsi qu'une forte résistance contre le cisaillement.
Rapide propriétés de démarrage à froid se traduisant par moins d'usure en raison de la haute stabilité du film lubrifiant.
Great dispersant and detergent properties, which warrants a clean operation
Très bonnes propriétés anti-usure, anti-corrosion et anti-mousse.