Spécifications
ACEA E3
API CG-4
API GL-4
API GL-5
API SF
CATERPILLAR TO-2
FORD M2C159B
FORD M2C159C
FORD New Holland 82009202
JOHN DEERE JDM J20C
JOHN DEERE JDM J27
MB 227.1
MIL-L-2104D
MIL-L-2105
Massey Ferguson MF 1139
Massey Ferguson MF 1144
Styx STOU SS
Semi Synthetic Universal Tractor Oil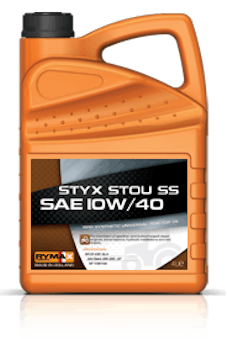 Description
Styx STOU SS SAE 10W/40 is a multi-grade Super Tractor Oil Universal, elaborated for the application in the engine, transmission, oil immersed "wet" brakes and hydraulic system in tractors, combines, harvesters and off-road equipment with or without turbo-charger engine. Thanks to its universal characteristic, this provide an undoubtable maintenance advantage, preventing mistakes and having a limited stock of products.

Styx STOU SS is formulated with high refined mineral and synthetic base stocks, in combination with a dedicated and unique additive package to fulfil all the requirements of STOU. It can be used all year round, providing a perfect cold start, reduces friction and keep the engine clean. It allows an optimum drain interval. Styx STOU SS also offers a perfect protection against corrosion, oxidation, foam-building and wear, even under extreme high loads in transmissions. An optimum level of detergent and dispersant keeps the oil and the system clean from any impurities.

Avantages
Haut niveau de dispersion et de détergence.
Très bonne protection contre l'usure.