Spécifications
API GL-4
ALLISON C4
CATERPILLAR TO-2
EATON VICKERS I-280-S
EATON VICKERS M-2950-S
FORD M2C86A
FORD M2C86B
FORD M2C134D
Case MS 1204
Case MS 1206
Case MS 1207
Case MS 1209
Denison (pump only) HF (-0-2)
DIN 51524-3
JOHN DEERE JDM J20C
JOHN DEERE JDM J20D
VOLVO WB 101
ZF TE-ML 03E
ZF TE-ML 05F
ZF TE-ML 06K
Massey Ferguson MF 1135
Massey Ferguson MF 1143
Massey Ferguson MF 1145
Sauer Sundstran/Danfoss
JCMAS HK P-041
Kubota: UDT fluid
NH410B
NH420A
New Holland 82948718
Valtra G2-08
Valtra G2-B10
I.H.C: B-5 & B-6 Hydran
White: Q-1705
White: Q-1722
White: Q-1766B
White: Q-1802
White: Q-1826
Segments
Agriculture
Mining
Styx UTTO SAE 80/W
Universal tractor transmission oil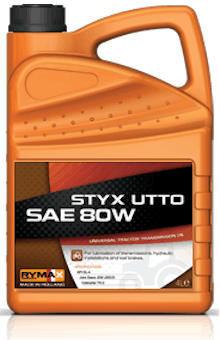 Description
Styx UTTO is an outstanding multifunctional hydraulic and transmission oil for tractors. Styx UTTO is suitable for tractors that need one lubricant for the hydraulic system, the transmission, differential, wet brakes and clutches. Styx UTTO is formulated from mineral base oils with special additives to improve viscometrics, it contains anti friction and extreme pressure to prevent wear and tear of metal surfaces at high revs and heavy loads. Styx UTTO is suitable for all modern tractors.
Styx UTTO is not an engine oil!
Avantages
Capacité de charge élevée.
Il assure aux systèmes hydrauliques un fonctionnement adéquat, réduit la cavitation, garantit le bon fonctionnement de l'embrayage, des freins et des filtres.