Specifiche
ACEA C3
API SN
BMW LL-04
MB 229.51
VW 504.00
VW 507.00
Segmenti
Posidon C3 LL
Full Synthetic MID SAPS Engine Oil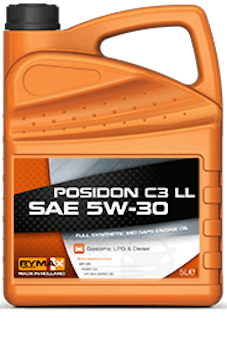 Descrizione
Posidon C3 LL is developed with a special additive technology, which contains less phosphorus, sulphur and sulphated ash, in order to
prevent the after treatment system (particle filter and catalysts) from blocking. Next to this, this oil provides an excellent oxidation stability and wear protection in order to provide maximum protection during long drain intervals.
Vantaggi
Minor consumo di carburante.
Altissimo Indice di Viscosità ed elevata resistenza al taglio.
La stabilità del film lubrificante riduce al minimo il rischio di usura e consente rapidi avviamenti a freddo.
Great dispersant and detergent properties, which warrants a clean operation
Ottime proprietà antiusura, anticorrosione e antischiuma.