Specificaties
CHRYSLER ATF 3+
CHRYSLER ATF 4+
CHRYSLER MS-7176
CHRYSLER MS-9602
Atexio +4
Vol-synthetische automatische tranmissieolie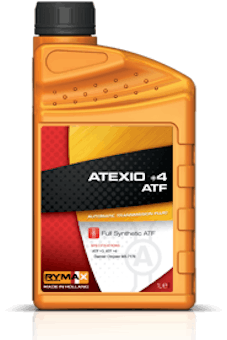 Omschrijving
Atexio +4 is een vol-synthetische, automatische tranmissieolie. In het bijzonder geschikt voor Chrysler tranmissies. De tranmissieolie kan ook worden gebruikt bij stuurbekrachtigings- en hydraulische systemen waarbij een goede vloeibaarheid bij lage temperaturen noodzakelijk is.
Atexio +4 heeft een extreem laag vloeipunt, wat het schakelen bij koude start vergemakkelijkt. 
Atexio +4 voldoet aan de ATF+4 (MS-9602) specificatie en vervangt de ATF+3 (MS-7176) specificatie. De transmissieolie wordt aanbevolen voor na- of hervulling na de reparatie of revisie van Chrysler transmissies waarbij een ATF+3 of ATF+4 wordt voorgeschreven.
Waarschuwing: Door de speciale wrijvings-eigenschappen vam de olie is het alleen geschikt voor gebruik in Chrysler of Jeep tranmissies.
Voordelen
Hoge en stabiele viscositeitsindex
Uitstekende bescherming tegen oxidatie, mechanische slijtage, corrosie of schuim-opbouw