Specificaties
ALLISON C4
CATERPILLAR TO-2
FORD M2C 138-CJ
FORD M2C166-H
FORD MERCON
GM DEXRON II
GM DEXRON II D
GM DEXRON II E
GM DEXRON III
GM DEXRON III F
GM DEXRON III G
GM DEXRON III H
MAN 339 V1
MAN 339 F
MAN 339 Z1
MB 236.1
MB 236.5
MB 236.9
VOITH H55.6335.34 (G 607)
ZF TE-ML 04D
ZF TE-ML 11A
ZF TE-ML 14A
ZF TE-ML 17C
Segmenten
Passenger Car
Commercial Transport
Agriculture
Mining
Atexio III
Automatische transmissie-olie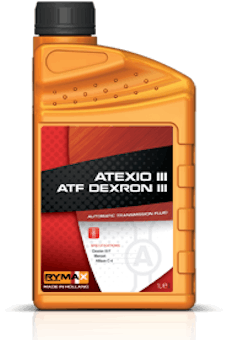 Omschrijving
Atexio III beschikt over een uitstekende thermo-oxidatieve stabiliteit, wat zorgt voor een exreem lange levensduur van de transmissieolie onder de meest zware omstandigheden. De bedrijfstemperaturen van de olie liggen tussen de - 45 °C en + 160 °C.
Bovendien fungeert Atexio III als een zeer goede hydraulische olie en overtreft het de prestaties van de meeste topkwaliteit 'anti-wear' hydraulische oliën of motoroliën. 
Geschikt voor gebruikt bij hydraulische pompen van de volgende merken: Sundstrand, Rexnord, Vickers and Hagglunds-Denison.
Deze ATF is superieur aan 10W motoroliën die veel worden gebruikt in mobiele hydraulische systemen. Het faciliteert een betere koude start en biedt betere bescherming tegen oxidatie.
Voordelen
Beschikt over uitstekende oxidatieve en thermische stabiliteit en verlengde verversingsintervallen, zelfs onder de zwaarste omstandigheden.
Excellent oxidation stability