Specificaties
Mercon LV
Mercon SP
GM DEXRON II E
GM DEXRON III
GM DEXRON VI
Segmenten
Passenger Car
Commercial Transport
Racing
Atexio VI
Vol-synthetische automatische transmissie-olie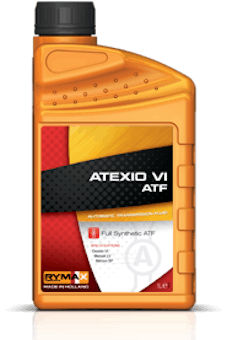 Omschrijving
Atexio VI is een vol-synthetische tranmissie-olie, speciaal ontwikkeld voor automatische transmissies afkomstig van General Motors. Daarnaast ook geschikt voor stuurbekrachtigingssystemen en hydraulische systemen waar een goede vloeibaarheid bij lage temperaturen noodzakelijk is.
Atexio VI wordt aanbevolen voor na- en hervulling van automatische transmissies waar de DEXRON VI of DEXRON III specificatie wordt voorgeschreven. 
Ten opzichten van DEXRON III heeft Atexio VI een hoge en stabiele viscositeitsindex en een optimale bescherming tegen corrosie en oxidatie. Door deze eigenschappen kan de verversingstermijn van de transmissie-olie voor een nieuwe GM transmissie worden verdubbeld. 
De transmissie-olie voldoet aan de DEXRON VI specificatie en is in het bijzonder geschikt voor de nieuwe Hydra-Matic 6-traps transmissies van GM. Geschikt voor gebruik in GM motors gebouwd in 2006 of later.
Voordelen
Soepele schakeleigenschappen bij koude start door het lage stolpunt
Hoge en stabiele viscositeitsindex
Uitstekende bescherming tegen oxidatie, mechanische slijtage, corrosie of schuim-opbouw
Verlengde verversingstermijn van de olie in nieuwe GM automatische transmissies t.o.v. DEXRON III