Specificaties
ASTM D 3306
ASTM D 4985
AFNOR NFR 15-601
SAE J 1034
Segmenten
Passenger Car
Commercial Transport
Racing
Agriculture
Mining
Dione BS Concentrate
Anti freeze and engine coolant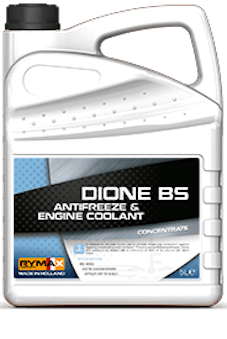 Omschrijving
A high performance engine coolant, which exceeds the requirements of British Standard as well as AFNOR. Antifreeze DIONE BS has been designed for all year round use to provide 'three way protection' against freezing, overheating and corrosion and is suitable for use in both petrol and diesel engines.
How to useDione BS is a concentrated antifreeze. It needs to been diluted until 50% of its volume with demi water. Do not use tap water!
Voordelen
Dion BS is een product op basis van mono-ethyleenglycol, samengesteld voor universeel gebruik.
Protegge dalla corrosione tutti gli impianti di raffreddamento motore, sia in alluminio che in leghe di ferro.