Specificaties
API GL-3
API GL-4
API GL-5
API MT-1
MACK GO-J
MAN 341 Z1
MAN 341 Z2
MAN 342 M2
MB 235.0
MIL-PRF-2105E
MIL-PRF-2105E
SCANIA STO 1:0
VOLVO 97310
ZF TE-ML 02B
ZF TE-ML 05A
ZF TE-ML 07A
ZF TE-ML 08
ZF TE-ML 12L
ZF TE-ML 16B
ZF TE-ML 16C
ZF TE-ML 16D
ZF TE-ML 17B
ZF TE-ML 19B
ZF TE-ML 21A
ZF TE-ML 12L
Arvin Meritor 076-N
Segmenten
Passenger Car
Commercial Transport
Racing
Agriculture
Mining
Gevitro TDL SS SAE 75W/90
Semi synthetic total drive line gear oil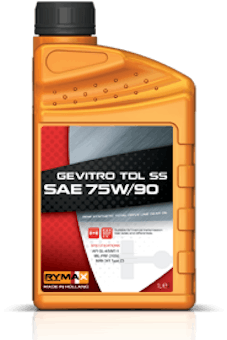 Omschrijving
Gevitro TDL is a premium semi synthetic Total Drive Line gear oil suitable for use where an API GL-3, 4 or 5 is recommended. It can be used in conventional but also modern gear boxes and rear axle differentials of passenger cars, trucks or buses, under lighter or very Heavy Duty conditions. This lubricant is NOT suitable for use in Limited Slip Applications.
Voordelen
Protezione premium di sincronizzatori e ingranaggi nell'intero gruppo di trasmissione.
Optimale bescherming tegen slijtage, corrosie en schuim-opbouw
Excellent thermal and oxidation stability and detergency
Fantastiche prestazioni a tutte le temperature, per una protezione che copre l'intero arco dell'anno.