Specificaties
API TC
ISO-L-EGD
JASO FD
Motrax 2T SS
Semi synthetische 2-stroke motor olie.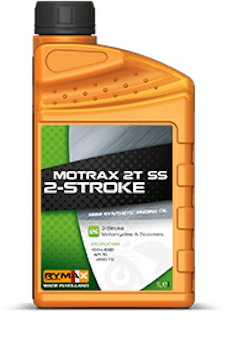 Omschrijving
Motrax 2T SS is een premium kwaliteit semi - synthetisch smeermiddel speciaal ontwikkeld voor krachtige 2-takt luchtgekoelde benzinemotoren uitgerust met olie - injectie of premix -systemen. Het is samengesteld uit hoogwaardige basisoliën , synthetische basisolie en unieke prestatieadditieven voor buitengewone bescherming van de motor , zuiverheid en weinig rook in 2 -takt motor / scooter motoren , zelfs onder zware omstandigheden. Het product voldoet dan ook aan de laatste internationale specificaties van JASO FD , ISO -L - EGD & API TC en aan de eisen van toonaangevende wereldwijde 2-takt motor / scooter fabrikanten.
Voordelen
Uitstekende smerende eigenschappen die de zuigers beschermen van wrijving. Dit voorkomt slijtage van de motor.
Advanced formulation provides exceptional control against engine deposits, exhaust system blocking and extended engine life without power loss
Low ash additive technology prevents pre-ignition and spark plug
Speciaal geselecteerde synthetische basisolie vermindert de uitlaatrook.
Eenvoudige mengbaar met benzine tot een stabiel homogeen mengsel, zelfs bij lage temperaturen.