Specificaties
API SL
JASO MA
Motrax 4T SAE 20W/50
4-takt motor olie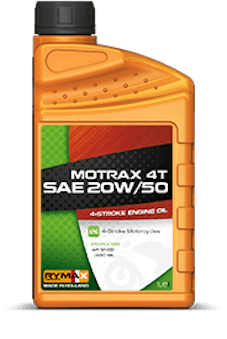 Omschrijving
Motrax 4T is een 4 -takt olie, geschikt voor motorfietsen met een droge of natte koppeling. Een uitgebalanceerd additievenpakket en zorgvuldig geselecteerde basisoliën garanderen uitstekende prestaties onder alle omstandigheden. Motrax 4T heeft uitstekende reinigende / dispergerende eigenschappen en biedt een perfecte weerstand tegen veroudering. Motrax 4T biedt tevens een perfecte bescherming aan de tandwielen en natte koppelingen. Dichtingen worden niet beïnvloed door deze olie.
Voordelen
Outstanding thermo-oxidative stability
Hoge concentratie dispergeermiddelen en reinigings additieven.
Excellent anti-wear properties to protect vital engine and gear parts.