Specificaties
Segmenten
Passenger Car
Commercial Transport
Racing
Oil Leak Preventer
Stops and prevents oil leakages through seals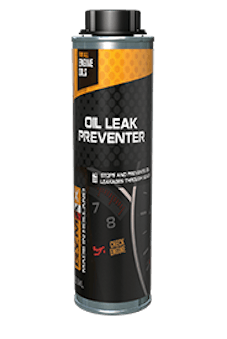 Omschrijving
Rymax Oil Stop Leak is a specialty product meant for use when common problems like oil leaks or exhaust smoke occurs. It is specially designed to help rejuvenate seals and gaskets and improve sealing at valve guides, piston rings and cylinder walls. This results in a reduction or stop of oil loss and oil contamination and in better compression and thus superior engine performance.
How to use?The additive can be used in all gasoline, diesel and LPG engines, with or without turbochargers. Mix this additive with the Rymax engine oils for an optimal result.
DosageAdd the contents of one bottle Oil Leak Preventer to the warm motor oil, preferably shortly after oil change. The Rymax bottle of 250 ml Oil Leak Preventer treats 3 to 6 litres of motor oil. Note: make sure the oil contents do not exceed the maximum oil level in your engine.
Voordelen
Stops and prevents oil leakages through seals.
Eliminates the need for expensive engine repair.
Makes seals swell back to original size and regain all-new pliability.
Prolongs the service life of the engine.
Riduce le emissioni di gas di scarico pericolosi.
Verhoogt de prestaties van de motor door het verbeteren van de compressie.