Specificaties
ACEA C3
API SN
BMW LL-04
MB 229.51
VW 504.00
VW 507.00
Segmenten
Posidon C3 LL
Full Synthetic MID SAPS Engine Oil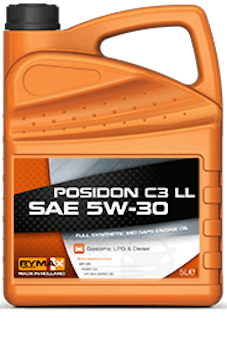 Omschrijving
Posidon C3 LL is developed with a special additive technology, which contains less phosphorus, sulphur and sulphated ash, in order to
prevent the after treatment system (particle filter and catalysts) from blocking. Next to this, this oil provides an excellent oxidation stability and wear protection in order to provide maximum protection during long drain intervals.
Voordelen
Een bewezen lager brandstofverbruik door betere smering
Zeer hoge viscositeitsindex en een hoge afschuifsterkte.
De stabiele smeereigenschappen zorgen voor een snelle koude start en minder slijtage.
De uitstekende disperserende en detergerende werking zorgt voor een schoon resultaat
Zeer goede anti-slijtage, anti-corrosie en anti-schuim eigenschappen.