Gasoline (or Petrol) Engine Service Classifications
Het Amerikaanse Petroleum Instituut, API, is een Amerikaanse Beroepsvereniging voor de olie- en gasindustrie. Het brengt verschillende factoren met betrekking tot aardolie samen, zoals de productie, verfijning en distributie.
Zij houden zich bezig met diverse technische normen, zoals de meetmethoden, normen voor het ontwerp van drukvaten enzovoort. Maar ook houden zij zich bezig met energiebesparing van de motorolie.
Er zijn twee categorieën: benzine en diesel. Category S staat voor "Spark Ignition", voor benzine en categorie C staat voor "Compression Ignition", voor diesel. Voor beide, wordt de letter S of C gevolgd door een andere letter. Bijvoorbeeld SM of CF. Hoe hoger de letter, des te recenter is de technologie van de olie. Voor recente olie zal de hoge specificatie de lage letter grade vervangen. Bijvoorbeeld, wanneer we een olie hebben met de specificatie SN, kan deze ook gebruikt worden voor voertuigen die API, SM, SL en SJ vragen, het is achterstevoren verenigbaar.
Echter, u moet letten op de jaargang van de motor. Wanneer de motor te oud is, kan de moderne chemie niet worden aangepast aan de oude motor ontwerpen-en materialen die gebruikt worden om de motor te maken. Laten we per categorie gaan kijken hoe het werkt.
Below are all the API categories in Gasoline. It
is mainly for passenger car, as most of the cars in US are Gasoline and not
Diesel.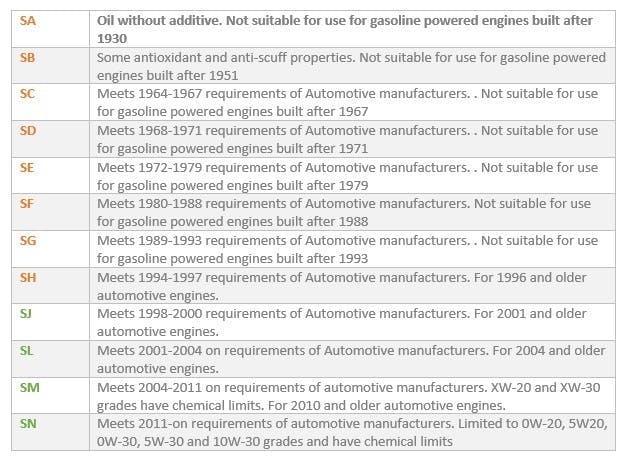 Orange: obsolete grades / Green: current grades.
Specifications from SA to SH are considered obsolete, meaning that you cannot get any official license from the API. It is meant for 1995 and older engines. As explained earlier, the higher the letter, the more recent and a higher specification would supersede the lower ones. API SN to SJ are for the most recent cars, API SH to SA for the older cars. Few examples to illustrate what would be the best:

- Example 1: Car from 1987 and you only have two available oils, one with API SH, the other one with SL. If you read the table properly, the car needs an API SF. In theory, both SH and SL could be used. As also explained earlier, more modern oils are not necessarily adapted for older engines. Therefore, the oil with SH level would be more adapted.

- Example 2: Car from 2003 and you have different oils available: API SJ, SM or SN. In this case, you need API SL, so an API SJ, lower, cannot be good. SM and SN supersedes SL so both oils can be used.

Generally speaking, the best would be to follow the recommendation of the table.

Diesel Engine Service Classifications
Below are all the categories in Diesel. It is mainly focused on heavy duty, meaning for trucks, buses, etc.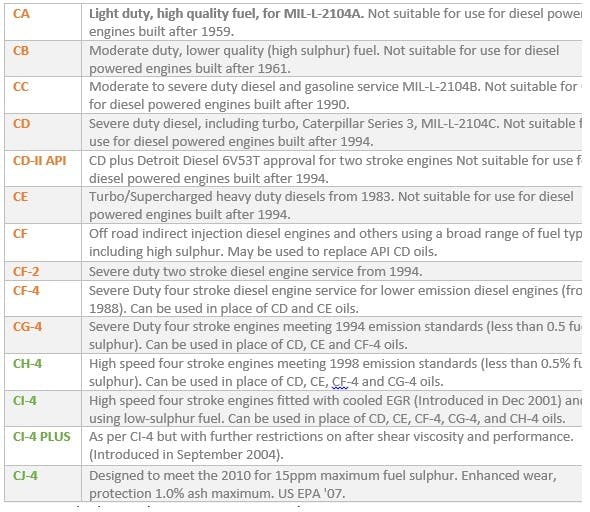 Orange: obsolete grades / Green: current grades.

As for the S category applies: the higher the letter, the more recent and it is backward compatible. There is a number after the letter, 2 or 4. It is for 2-stroke or 4-stroke engines.
The way the table works is exactly the same than for the C category. If you have a vehicle which was built after 1994, you should check in the categories from CD to CJ-4. For engines manufactured before 1994, preferably use oils in categories CA, CB and CC. If for example an engine requires an API CG-4 and you have only a CI-4 oil available, CI-4 will cover the needs of CG-4, as stated in the table.

If you want to have more details about API and their lubricant program, check there website.