Specifications
ACEA C1
FORD M2C934-B
JASO DH-1
Apollo C1 SAE 5W-30
Full synthetic long life engine oil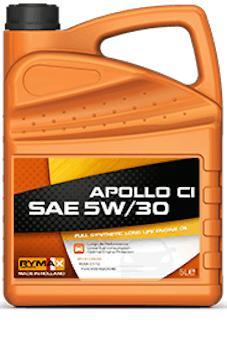 Description
Apollo CI is the most advanced lubricant based on low SAPS technology. It is formulated with synthetic base oils for gasoline and diesel engines of passenger cars and light duty vehicles, where a fuel-economy ACEA C1 engine oil is prescribed.
Apollo C1 exhibits extra fuel economy properties thanks to its HTHS lower than 2.9 cP and is suitable for use in any Ford requiring M2C-934 or M2C-934B specification, but also Mazda or other OEM requiring ACEA C1 type of oil.
Caution: This oil may be unsuitable for use in engines requiring higher viscosity grades or in countries with a high level of Sulphur (> 50ppm) in the fuel.
Benefits
Lower fuel consumption
Very high Viscosity Index and a high resistance against shearing.
Fast cold start properties which results in less wear due a stable lubricant film.
Very good Anti-Wear, Anti-Corrosion and Anti-Foam properties.
Very good lubrication film at very high working temperatures
Great dispersant and detergent properties, which warrants a clean operation