Specifications
ACEA C4
MB 226.51
Renault RN 0720
Apollo C4 SAE 5W-30
Full synthetic long life engine oil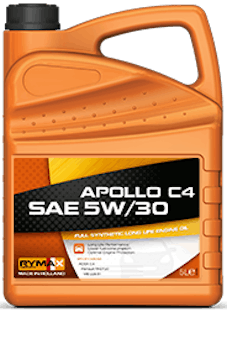 Description
Apollo C4 is the most advanced lubricant based on low SAPS technology. Apollo C4 is formulated with synthetic base oils for gasoline and diesel engines of passenger cars and light duty vehicles, where a ACEA C4 engine oil is prescribed. It can be applied for cars equipped with catalytic converters, turbo charged engines and direct fuel injection systems.
This engine oil is using a state-of-the-art additive in order to provide outstanding shielding against wear and deposits. Its exceptional thermo-oxidative stability slow down the oil degradation, facilitating extended oil drain intervals. It contains a low level of Sulphated Ash, Phosphorous, Sulphur (SAPS) in order to protect after-treatment devices, such as Diesel Particle Filter (DPF) and three way catalysts (TWC), present on Euro IV cars and more recent models.
Apollo C4 is suitable for use in any Renault requiring RN0720 specification, but also Nissan or other OEM requiring ACEA C4 type of oil.
Caution: This oil may be unsuitable for use in engines requiring higher viscosity grades or in countries with a high level of Sulphur (> 50ppm) in the fuel.
Benefits
Lower fuel consumption
Very high Viscosity index and a high resistance against shearing
Fast cold start properties which results in less wear due a stable lubricant film.
Very good Anti-Wear, Anti-Corrosion and Anti-Foam properties.
Great dispersant and detergent properties, which warrants a clean operation
Very good lubrication film at very high working temperatures