Engine Performance Booster - Additive Shot
Give It A Shot - Motorcycle Additive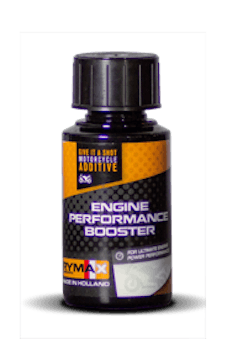 Description
Engine Performance Booster is a new generation performance oil additive especially designed for motorcycles and scooters to reduce friction and wear. It protects all engine parts that are most vulnerable to wear. Oil ageing and thickening will be delayed and its anti-friction properties boosted so your oil can keep performing optimally for an extended period of time. 
How to use? For all gasoline, diesel, and LPG engines with or without turbochargers. Can be mixed with all types of engine oil. Does not harm catalytic converters and does not clog filters.
Dosage Pour the contents of one bottle of 80ml in warm motor oil. It is preferred to do this shortly after an oil change. Let the engine running for a couple of minutes so the additive can mix with the engine oil. Make sure you do not exceed the maximum oil level. One can treats one carter. It is recommended to use this additive with every oil change. 
Benefits
Significantly reduces friction and wear.
Prevents and delays oil-ageing.
Provides long term protection of your engine.
Improves load carrying capacity of the lube film.
Reduces emission of hazardous exhaust gases.
Reduces engine noise level and vibrations.