Gasoline Performance Improver - Additive Shot
Give It A Shot - Motorcycle Additive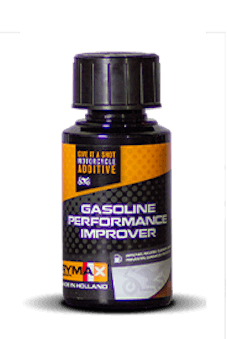 Description
The Gasoline Performance Improver is a multipurpose gasoline additive for motorcycles and scooters which cleans the entire fuel system including the valves, carburetors and injectors. 
How to use? For all gasoline, leaded or unleaded, engines with injectors or carburetors. Does not harm catalytic converters. 
Dosage Pour the contents of one bottle of 80ml in the fuel tank before filling it with fuel. One bottle will treat 20 litres of fuel. Normal use requires one bottle every 2000 km. Intensive or sportive use requires one bottle for each tank filling. 
Benefits
Good corrosion protection.
Eliminates rough idling and engine hesitation.
Improves combustion and fuel economy.
Reduces emission of hazardous exhaust gases.