Specifications
API GL-4
BMW MTF LT-2
BMW MTF LT-3
BMW MTF LT-4
FORD WSD-M2C200-C
FORD WSS-M2C200-D2
GM 1940182
GM 1940764
GM 1940768
GM 1940004
GM 19259104
MB 235.10
NISSAN MT-XZ
NISSAN MT-XZ TL
PSA B71 2230
Renault NFJ
Renault NFP
Renault TRJ
Renault TRT
Renault TRZ
VOLVO 97308
VOLVO 97309
VW G 009 317
VW G 052 171
VW G 052 178
VW G 052 512
VW G 052 726
VW G 052 527
VW G 070 726
VW G 060 726
VW G50
MTF94 Honda MTF
Segments
Commercial Transport
Passenger Car
Racing
Gevitro GL-4 FS SAE 75W-80
Full Synthetic Gear Oil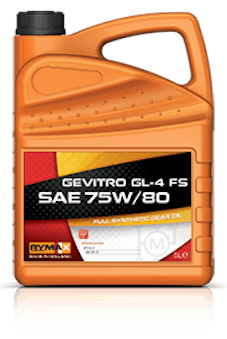 Description
Gevitro GL-4 FS is a top quality manual transmission fluid designed for the use in passenger car and light commercial vehicles. It is formulated with high quality synthetic base oils, allied to high performance additive package. This product is designed to cover the needs of many vehicles, outside the warranty period.
Benefits
Fuel Economy
Excellent oxidation stability
Excellent anti-rust protection
Excellent low temperature properties to ensure smooth shifting even in cold winter
Compatible with wide variety of synchronizer materials.