Specifications
API GL-3
API GL-4
API GL-5
API MT-1
MACK GO-J
MAN 341 Z1
MAN 341 Z2
MAN 342 M2
MB 235.0
MIL-PRF-2105E
MIL-PRF-2105E
SCANIA STO 1:0
VOLVO 97310
ZF TE-ML 02B
ZF TE-ML 05A
ZF TE-ML 07A
ZF TE-ML 08
ZF TE-ML 12L
ZF TE-ML 16B
ZF TE-ML 16C
ZF TE-ML 16D
ZF TE-ML 17B
ZF TE-ML 19B
ZF TE-ML 21A
ZF TE-ML 12L
Arvin Meritor 076-N
Segments
Passenger Car
Commercial Transport
Racing
Agriculture
Mining
Gevitro TDL SS SAE 75W-90
Semi Synthetic Total Drive Line Gear Oil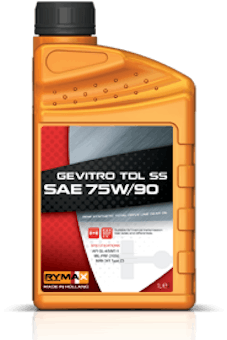 Description
Gevitro TDL SS is a premium semi synthetic Total Drive Line gear oil suitable for use where an API GL-3, 4 or 5 is recommended. It can be used in conventional but also modern gear boxes and rear axle differentials of passenger cars, trucks or buses, under lighter or very Heavy Duty conditions. This products allows the use of one single lubricant in rear axles, synchronised and non-synchronized manual transmissions and therefore, helps the rationalisation of products.
Benefits
Premium protection of synchronizers and gears in the entire driveline.
Optimum resistance against wear, corrosion and foam building
Excellent thermal and oxidation stability and detergency
Splendid performance at all temperature conditions, for a perfect all-seasons coverage.