Specifications
API TB
JASO FB
Motrax 2T TSC-2
2-Stroke Engine Oil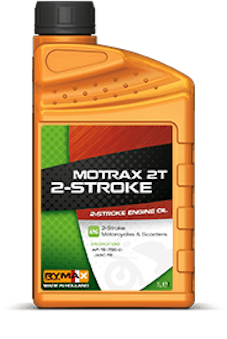 Description
Motrax 2T TSC-2 is a high quality mineral lubricant, suitable for use in air-cooled 2-stroke engines, in diverse applications. Three grades, called TSC-1, 2 or 3 are available. Depending on the grade, it can used in different applications.
TSC-2: Suitable for motor scooters, motorcycles, chain saws (up to 32:1 fuel to oil ratio).
Benefits
Reduces pre-ignition and plug fouling.
Excellent protection against piston seizure, ring sticking, engine deposits and exhaust blocking.