Specifications
ISO 4925
DOT 3
US FMVSS 116 DOT 3
SAE J 1703
Segments
Passenger Car
Commercial Transport
Racing
Agriculture
Mining
Vector 3
Hydraulic Brake Fluid DOT 3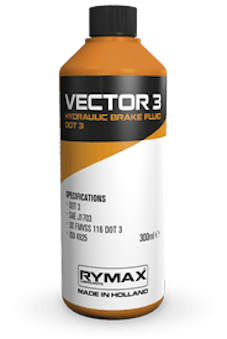 Description
Vector 3 is a heavy duty brake and clutch fluid exceeding SAE J1703 and United States Federal Motor Vehicle Safety Standard No. 116 DOT 3 and ISO 4925 specifications.
Our Brake Fluids are completely miscible with one another and are compatible with other approved DOT glycol ether and borate brake fluids. However, do not mix with silicone type or silicate ester type brake fluids.
Good brake fluid quality is essential for the system to operate under severe conditions. In service, the brake fluid absorbs moisture which causes a significant reduction in the boiling point of the brake fluid. A consequent risk of this is so-called "vapour lock". Vector 3 exceeds the international standards specifying minimum values for the wet and dry boiling point. In doing so, we offer a substantial safety margin against water pick up.
Benefits