Specifications
ISO 4925
VW 501.14
US FMVSS 116 DOT 4
US FMVSS 116 DOT 3
Segments
Passenger Car
Commercial Transport
Racing
Agriculture
Mining
Vector 4+
Hydraulic Brake Fluid DOT 4+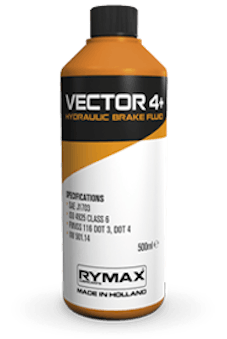 Description
Rymax Vector 4+ is recommended for ABS and ASR brake systems. Especially the low viscosity, compared to the original DOT 4 brake fluids, stands out very well in these systems.Rymax Brake Fluid DOT 4+ is particularly suitable for and also prescribed in new brake systems (a.o. Opel Vectra C, VW Passat B6 and other modern cars build after 2004). These new systems are mostly characterized by thinner brake fluid pipes (more flexible, less material). At low temperatures, these systems require a brake fluid with a lower viscosity to guarantee a rapid response time.

Rymax Vector 4+ has a high 'wet boiling point' by which the risk of vapour lock is strongly reduced. This is important when asbestos-free brake lining is used or for frequent braking (e.g. in mountain areas and/or driving with a trailer) and the connected higher heat generation.

Vector 4+ can be mixed with other synthetic brake fluids meeting FMVSS 116 DOT 3, DOT 4 and DOT 5.1 specifications and can be applied in systems prescribing these specifications. This brake fluid will not affect cup seals, brake fluid pipes or seal rings.

Benefits