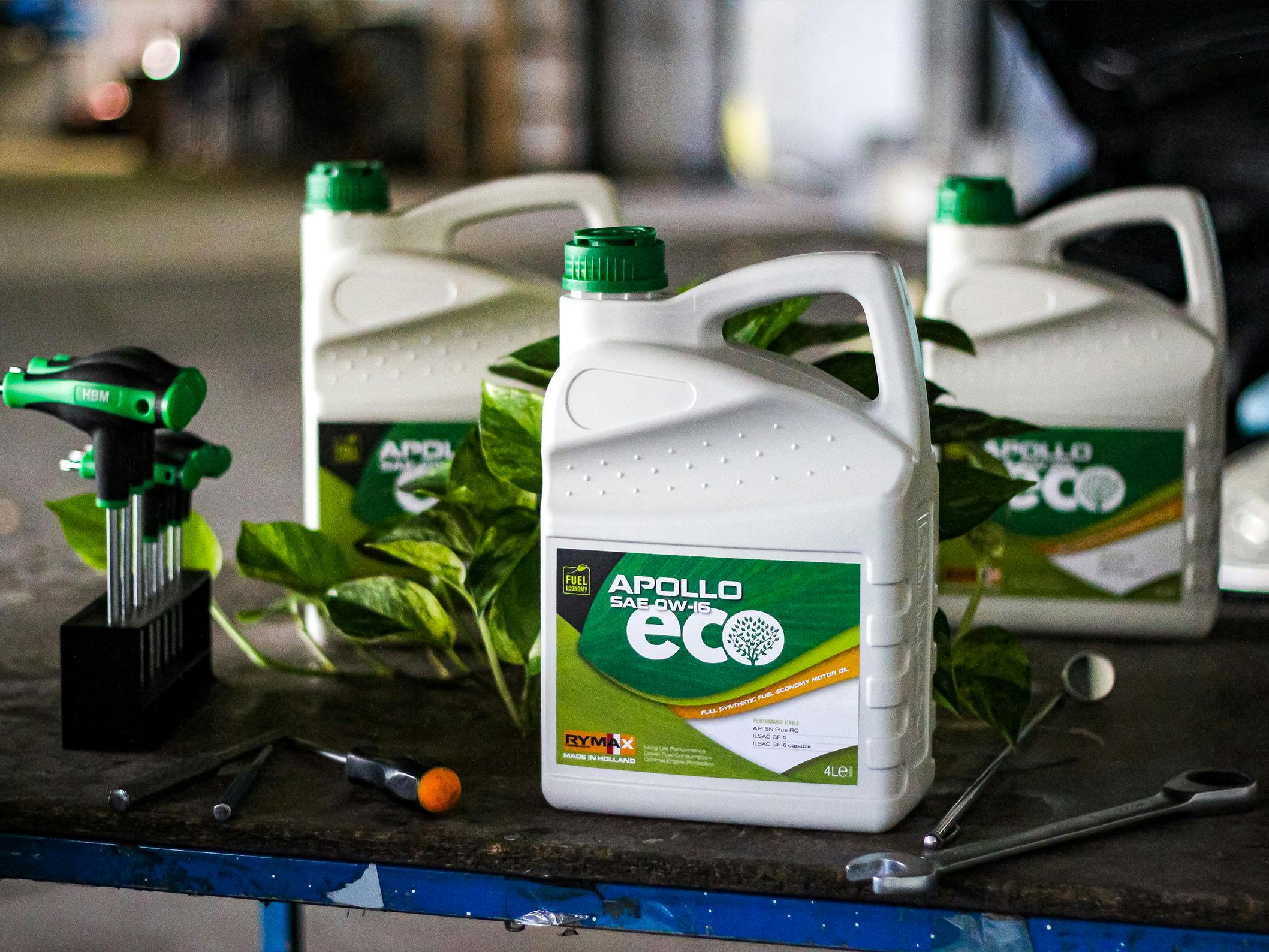 Top quality fuel-saving engine oils
The new Rymax ECO product line offers a variety of full synthetic engine oils for gasoline, diesel and hybrid engines. The lubricants comply with the latest API SN Plus RC classification, the ILSAC GF-5 & 6 and ACEA C2 standards. The ECO line consists of low viscous, fuel-saving engine oils with maximum protection against LSPI (Low Speed Pre-Ignition). The ECO range offers a 0W-20 and a 0W-30. Additionally, the highlight of the ECO range is a completely new 0W-16 full synthetic engine oil, particularly suitable for modern hybrid engines.
Efficiency
The goal of Rymax is to introduce a product line that focusses on maximum efficiency for gasoline, diesel and hybrid engines. The low viscosity characteristics of the ECO line result in less resistance in modern combustion and hybrid engines. This leads to more efficiency and less emitted CO² per driven kilometer. This is an important feature because as per January 2021 it is mandatory that the average CO² emission of all new vehicles is less than 95 gram of CO² per kilometer. The strict WLTP regulations prescribe these emission values for amongst others Europe, America, India and China. According to the M111 Fuel Economy Test, the ECO line products reduce fuel consumption with over 3% compared to higher viscosity oils.
More than fuel-saving
For Rymax Lubricants, it does not stop here. Introducing a top-quality engine oil that reduces emissions is just the first step. The ECO products are introduced in a new, 95% recycled bottle. It still has the distinctive Rymax shape but barely any grams of virgin plastic are used. Also, no paint is used to color the bottle, resulting in a natural look. In addition to the recycled bottle, the cardboard box that holds the 4-liter cans is made out of 70% recycled paper, including an FSC-mix certification. But Rymax goes further: the ECO line also plans a 20-liter bag-in-box solution for a highly improved logistical process and further reduction of landfill waste. Another initiative increasing consciousness around mother Nature is the partnership with 'One Tree Planted', the initiative that plants a tree for every box of Rymax Apollo ECO sold. And to meet the competitive nature of the Rymax company it comes naturally to participate in a race: Rymax Lubricants is proud partner of the 'Photon', the Solar Boat build and ran by the HAN University of Applied Sciences and participating in the prestigious Monaco Solar & Energy Boat Challenge. The Photon's mission is to show the world that 'embracing green' can be very attractive, sporty and challenging.
Rymax's vision
The CEO of Rymax Lubricants, mr. Herman Peene, comments on the introduction of the ECO line: "We strongly feel that as a company with so much expertise in the lubricants industry, we should have full focus on what we can do to make the world a better place for future generations. The introduction of the Rymax ECO product line is just the beginning. We are ambitious and driven by the deeply rooted motivation to improve every day. In the past we have done so by making excellent lubricants and greases and by being a full-service partner to our network of over 55 distributors worldwide. Today, we look at the environment more than ever before. Therefore we set goals to reduce our carbon footprint whilst remaining an excellent and conscious partner for our sales partners, also asking them to do their part."