Especificações
API TC
ISO-L-EGD
ISO 6743-15
JASO FD
Husqvarna 346
Husqvarna 372
Rotax 253
Motrax 2T FS
Óleo de motor sintético completo de 2 tempos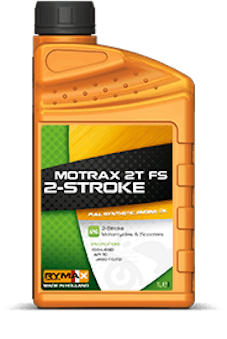 Descrição
Vantagens
Exceptional lubricity safeguards against piston scuffing and wear of engine components.
Advanced formulation provides exceptional control against engine deposits, exhaust system blocking and extended engine life without power loss
Specially selected synthetic base fluid reduces visible exhaust smoke.
Low ash additive technology prevents pre-ignition and spark plug
Easy miscibility with gasoline to guarantee a stable homogeneous mixture even at low temperatures.
Recommended for high-powered 2-stroke motorcycles/ scooters operating under different conditions.
Suitable for oil-injection and premix lubrication systems follow manufacturers recommendations for oil-fuel ratio
Suitable for high performance 2-stroke engines in all terrain vehicles, snow mobiles, lawn mowers and other variety of applications requiring oils of this quality
Also recommended for applications specifying ISO-L-EGC and JASO FC or lower category oils for superior performance.