Specifikime
API SM
JASO MA
JASO MA-2
Motrax 4T FS SAE 10W/40
Vaj motori 4-kohësh plotësisht sintetik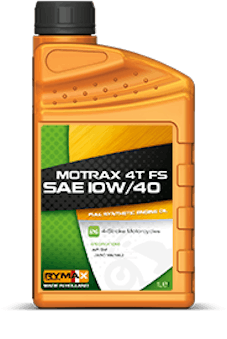 Përshkrim
Motrax 4T FS është vaj motori plotësisht sintetik i pa modifikuar për fërkime, i zhvilluar posaçërisht për ciklet motorike 4-kohësh. Ky vaj mund të aplikohet edhe në transmesionet e motorit ku përshkruhet me këto të dhëna SF, SG, SH ose SL.
Motrax 4T FS është i përshtatshëm për udhëtime të gjata, gara dhe moto-cross. Përmban aditivë,të cilët sigurojnë veshje të shkëlqyera, presioni ekstrem dhe anti-korrozioni, si dhe një indeks të lartë viskoziteti. Pastrues efektivë dhe aditivët shpërndarës i bëjnë të mundur vajit të minimizojë depozitat dhe ndotjen.
Përfitime
Stabiliteti termo-oksidativ i jashtëzakonshëm
Aftësia për kontrollin e fërkimit eliminojnë rëshqitjen e freksionit
Excellent anti-wear, anti-rust and anti-corrosion properties, as well as outstanding detergency and dispersancy for an optimum protection of the engine.
Outstanding low temperature properties to guarantee am easy starting in winter and ensure an effective lubrication at start up.
Low volatility thanks to synthetic base oils, reducing oil consumption.