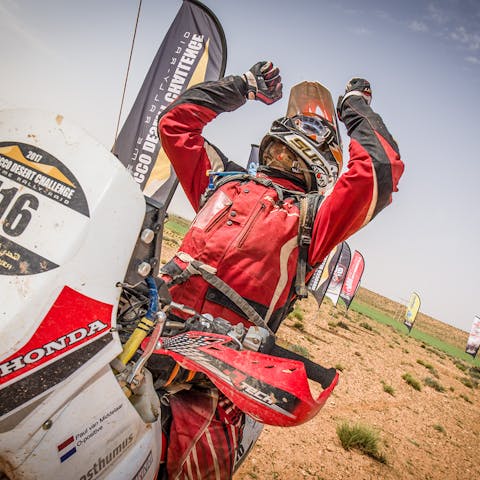 The 4 Options of the ​Morocco Desert Challenge - A rally for everyone
The 4 Options of the ​Morocco Desert Challenge​ - A rally for everyone - There are four categories at the 2018 Morocco Desert Challenge (MDC): The Rally PRO category, The RAID category, Assistance category, VIP / Sponsor trips
Follow the journey!
Follow the journey via our Instagram account
The 4 Options of the Morocco Desert Challenge
A rally for everyone
There are four options at the 2018 Morocco Desert Challenge (MDC):

The Rally PRO category
The RAID category
Assistance category
VIP / Sponsor trips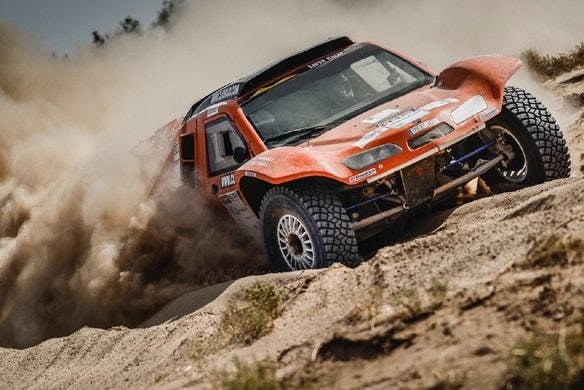 Rally PRO category The Rally PRO category is open to the more experienced drivers of cars, trucks, buggies SSV's, quads and motorbikes. It is a competition for those who want to go against the best and race against the clock. The majority of participants, about 75%, are in this category. Navigation is by a FIA-style roadbook and by GPS UNIK 2. The GPS UNIK 2 comes with a Sentinel built-in. A Sentinel is a kind of warning system or alarm that allows for safe overtaking. Drivers wishing to overtake another during the race will simply need to push the button on the Sentinel and the pilot in front will get a warning on his device (alarm & stroboscopic light). If the driver in front, after getting 3 warnings, refuses to give way to the one overtaking, a penalty time will be automatically given.

The introduction of these systems (GPS UNIK & Sentinel) makes the rally more professional and a lot safer. It also allows the race director to publish rankings correctly within a very short time frame. These systems are also used in other world championship rallies (FIA/FIM) and long distance rally raids like the Dakar. The Morocco Desert Challenge is not a FIA or FIM event, as it is open to everyone. However, the MDC does make use of official guidelines concerning roadbooks, GPS, penalties, checkpoints, etc. so that participants are familiar with the terminology and rules used by other rallies like the Dakar and FIA/FIM world championships.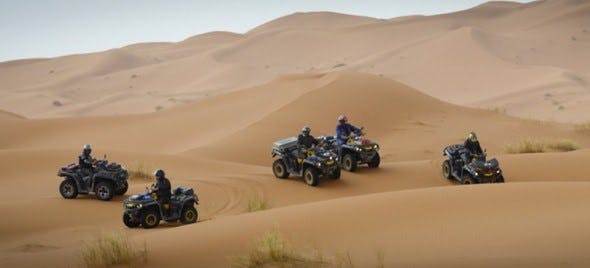 RAID category The RAID category is an off-road challenge, for the adventurers who are not driven by the stopwatch and for the less experienced. As of 2018, there are two possibilities for this option:

Adventure Raid: as many kilometers as possible off-road
Discovery Raid: cover 50% of the actual race track, focusing on following the rally. This means a visit to checkpoints, lunch stop and refueling CP's etc. A European guide will accompany participants with his own 4x4.

Technology has also been introduced in this option: TRIPY. A TRIPY is a combination of GPS, digital roadbook and a tripmaster, which makes navigation a lot easier. The device is designed to put drivers back on track if they have made the mistake of losing their way. There will also be a Raid Responsible team to whom the participant in this category can address to, both in the bivouac as well as on the track.

Drivers can also participate with their own cars or rentals but it is open to 4x4 vehicles only.

Assistance category This option is for assistance teams. The restriction for those taking this option is that assistance vehicles may not enter the race track. They have to follow the liaison route directly from bivouac to bivouac. Only in the case of an emergency can they enter the race track, but only after strict permission from race directors. This category is ideal for those who want to provide assistance to their teams and enjoy the Morocco Desert Challenge with family and friends and bring sponsors.

VIP and sponsor trip Since Morocco Desert Challenge is celebrating its 10th anniversary this year, it has a lot in store for those involved. This option is for guests that want to enjoy and experience the rally and Morocco in the most beautiful way. Guests will be guided by one of the MDC's staff members and will drive part of the rally stage themselves in a rented 4x4. There are 3 VIP trips in total:

VIP TRIP 1: Agadir (fly in, hotel & scrutineering) / Plage Blanche (prologue & bivouac 1) / Touzounine (stage 2 & bivouac 2) / Agadir (fly home)
VIP TRIP 2: Agadir (fly in & hotel) / Touzounine (bivouac 2) / The Dunes of the Jews (desert stage & bivouac 3) / Fezzou (desert stage & bivouac 4) / Errachidia (fly home)
VIP TRIP 3: Errachidia (fly in) & Merzouga (hotel) / Boudnib (desert stage & bivouac 6) / Matarka (desert stage & bivouac 7) / Saidia (finish, award ceremony, party, hotel & fly home).
For more information please visit the www.morocco-desert-challenge.com