Specificaties
API GL-4
API GL-5
API MT-1
DAF
IVECO
MACK GO-J
MAN 341 E3
MAN 341 Z2
MAN 342 Type M3
MB 235.8
MIL-PRF-2105E
MIL-PRF-2105E
Renault B0032/2
SCANIA STO 1:0
ZF TE-ML 02B
ZF TE-ML 05B
ZF TE-ML 07A
ZF TE-ML 12B
ZF TE-ML 12N
ZF TE-ML 12L
ZF TE-ML 16F
ZF TE-ML 17B
ZF TE-ML 19C
ZF TE-ML 21B
ZF TE-ML 12L
ZF TE-ML 12N
Arvin Meritor 076-N
Segmenten
Passenger Car
Commercial Transport
Racing
Agriculture
Mining
Gevitro FS SAE 75W-90
Full synthetic gear oil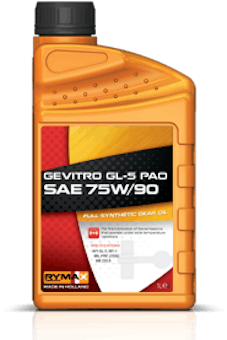 Omschrijving
The lubrication of transmissions operating under wide temperature variations. The PAO base oil gives this product an extreme low temperature range which also prevents wear and makes shifting at low temperatures go very smooth.
Voordelen
La base sintetica di quest'olio gli conferisce una maggiore stabilità ossidativa e riduce efficacemente la produzione di lacche e morchie.
Opmerkelijke laadvermogen.