Engine Flush - Additive Shot
Give It A Shot - Motorcycle Additive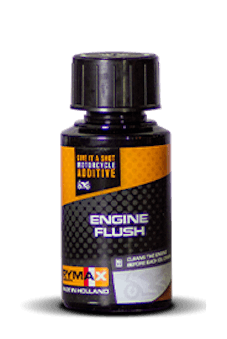 Description
Engine Flush is an oil based product especially designed for use in motorcycles and scooters that completely cleanses the interior of the engine from sludge, gum, rust, and varnish.
How to use? For all gasoline, diesel, and LPF engines with or without turbochargers. This additive can be used with all mineral, semi-synthetic, or fully synthetic motor oils. 
Dosage Pour the contents of one bottle of 80ml in the crank case of the warm engine before changing the oil. Let the engine run for about 15 minutes, at both low and high rpm. Then you can drain the oil from the crank case and replace the oil filter. Finally fill up the crankcase with fresh motor oil. One bottle can treat one crankcase volume.
Benefits
Internally cleans and flushes the engine with highly effective cleaning agents.
Eliminates gums, varnish and sludge.
Easily removes contaminants like carbon deposits, soot and liquids (water and fuel rests).
Lower fuel consumption