Specifications
API GL-5
API MT-1
MIL-L-2105D
ZF TE-ML 05C
ZF TE-ML 12C
ZF TE-ML 16E
Segments
Passenger Car
Commercial Transport
Racing
Agriculture
Mining
Gevitro GL-5 LS SAE 85W-140
Limited slip gear oil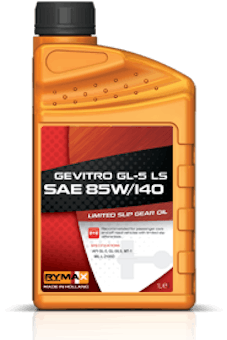 Description
Gevitro GL-5 LS (Limited Slip) is recommended for passenger cars with "limited slip" differentials. Gevitro GL-5 LS is a high quality, hypoid type gear oil, specifically developed for limited slip differential units fitted to modern, high performance passenger cars and off-road leisure vehicles. Gevitro GL-5 LS may be used in limited slip differentials of European, Japanese and American built vehicles, and is equally suitable in tranmissions, gear axles, steering boxes and universal joints etc. Gevitro GL-5 LS is recommended for high performance passenger cars and sports cars frequently running at high speed and is equally suited in a wide range of applications where an EP-type gear oil is specified.
Benefits
Optimizes frictional characteristics of the limited slip components
Effective in reducing transmission noise.
Very good performance at high temperatures.
Gives maximum protection of the gears, bearings and limited-slip components.